AES Daily Day #2/Sunday May 29 Edition: Digital Production Consoles - an option-rich environment.
What shall we call them? Mixing consoles or DAW controllers? "A Rose, etc ..." but there are plenty of options on the exhibition floor here in Barcelona, ranging from the new SADiE (Stand 2822) H64 Multi-Channel Remote, which provides track arming, monitoring, transport controls and edit controls for its workstations, to the new Digidesign (Stand 1301) ICON D-Command medium-format console that features Pro Tools|HD Accel as its DSP engine, with modular Pro Tools|HD interfaces and peripherals for system I/O.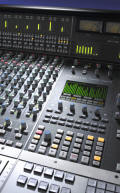 Solid State Logic (Stand 1911) will be showing a new automation option for the AWS 900 Analogue Workstation System - shown right - based on G- and K-Series Ultimation. AWSomation enables a post facility or mastering house to make adjustments to premixed 5.1-channel DME stems, for example, and apply additional dynamics control or EQ. Since these changes normally will not be made within the attached DAW, but rather a downstream mixing section, the new option will memorize level changes for update during subsequent passes.
Euphonix Europe (Stand 1901) is showcasing the System 5-MC Integrated DAW Audio Mixing System, which combines the familiar S5 control surface with EuCon-capable DAWs such as Steinberg Nuendo and Merging Technologies Pyramix. The integral MC Intelligent Application Controller provides master functions and integral DAW control, plus command of software applications. Other DAWs, including Pro Tools, can be accessed via HUI protocol and (to come) MIDI.
Harrison by GLW (Stand 4201) is spotlighting the Trion Digital Production/Broadcast Console, which fairly bristles with useful features. Instead of offering centrally located controls, Trion provides access via a vertical array of assignable knobs per channel or - and here's the neat touch - across all 80 controls per eight-channel input block. A 20-second PreView Waveform Display is useful for monitoring the imminent arrival of replayed cues.
Merging Technologies (Stand 3505) continues to refine its OASIS Open control Protocol that allows work-surfaces to connect to its Pyramix DAW system - current implementers include AMS-Neve, Euphonix and Smart AV. Pyramix can be used as a stand-alone DSP mix and I/O engine accessible via a conventional LAN with transport control and timecode sync.
Lawo's powerful MC²-Series Digital Consoles (Stand 3501) now enable channels and buses to be assigned or attributes copied directly onto a channel strip. Up to 192 DSP channels and 144 summing buses are available via MADI, ATM or AES I/Os; the firm's DALLIS Matrix handles up 8192-squared mono analog/digital channels.
Calrec Audio (Stand 1415) will unveil System Plus for its broadcast consoles; new enhancements include expanded monitoring and 5.1 source selection. Designed to handle 5.1 surround sources as single inputs, System Plus also enables adjustment of individual elements. And the firm's Hydra network enables sharing of I/O resources and control data.
Studer (Stand 2602) will spotlight the Vista 8 Digital Console that now features V3.5 software with a number of live-performance features, including CUELIST, which allows a series of cues with snapshot settings and MIDI trigger commands to be edited and sorted. (The feature also integrates with Harman's HiQnet networking protocol.) Audio-follows-video plus external matrix control have also been added for live broadcasting.
And Fairlight (Stand 1908) will unveil the Constellation-XT Digital Console, which is powered by a 240-channel, 72-buss QDC engine. A new In Line Panel provides dedicated and assignable controls for input settings, EQ and dynamics filters, sends, panner and all plug-ins. ILP features new-generation Organic Light Emitting Diode displays that work in high lighting levels and at acute viewing angles.
AES Daily Day #3/Monday May 30 Edition: Interface Design and Ergonomics - setting high standard for usability.
All too often, system designers are so distracted with the elegance of an invention that they can unwittingly forget that humans need to use them to perform specific functions. No, we are not being short changed in terms of blindingly fast computational speed; it is more a matter of finding our way around the pull-down menus and front-panel controls. And while I can marvel at a range of DAW capabilities with which we have been presented, for example, users might end up frustrated that they cannot implement those new, trick functions, simply because they cannot find the appropriate controls.
Yes, interface layout is the key to being able to realize the full potential of any new offering. But how many manufacturers are giving such considerations the attention they deserve. Not enough, I would hazard. All of which makes the work of tutors at Glasgow Caledonian University highly relevant. During the Convention I met Patrick Quinn, who on Saturday co-presenting with colleague John Lynn a fascinating paper entitled Interface Design as part of an Audio Technology Degree, which describes an undergraduate honors program whose fourth-year students focus on the theory and practice of interface design for music and audio technology.
As paper 6351 explains, final-year students at Glasgow are exposed to the cognitive capabilities of users across a wide range of abilities and experience - we cannot simply assume that because we, as designers, understand that this pull-down menu initiates a specific response, a typical user also recognize the modality - and that students understand the principles of good ergonomic practice, particularity that of user centered design. (The degree syllabus draws heavily, I understand, on the work of Apple Fellow Donald Norman, whose seminal work, "The Design of Everyday Things" has been an inspiration to many technologists.)
While it would disingenuous of me to point out bad designs that we might discover at this current AES Exposition, I can at least offer my two cents worth in terms of what I might consider good examples of human interfaces and sensible ergonomics. Since my "special subject" these days is digital consoles and DAWs, let me start there. The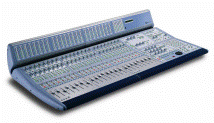 Euphonix System 5-MC, in particular, combines traditional in-line assignable console controls with a centrally located DAW command section, while the Digidesign ICON D-Control and new D-Command - shown left - controllers combine elegant virtual assignment with clear, color-coded on-surface controls. SSL's AWS 900 incorporates a clear and unambiguous, one-control-per function paradigm within its analog sections, but takes full advantage of assignabliity in the companion DAW control area; for me, the new Studer Vista 8 sets new benchmarks in almost intuitively bringing in front of the user clustered functions that are associated with the current task.
Although I am still coming to terms with the new Smart AV Elite Assignable Console Controller, I'm sure that with more hands-on experience I will begin appreciate its enhanced ergonomic capabilities. And I came away from demonstrations of the DiGiCo D/DS-Series, Harrison Trion, Fairlight Dream Constellation-XL, Stagetec Aurus Direct-Access Console, MC²-Series and InnovaSON Sy48/80 with new respect for these companies' offerings.
And in terms of current-generation workstations, a tip of the hat must go to the new Digidesign Pro Tools V6.9, SADiE V5.4, Steinberg 3.0 and Merging Technologies Pyramix V4.3, all of which continue to set high standards in powerful editing, mixing and DSP functionality that is easily accessible by novice and aficionado alike.
MIX "CURRENTS" - Barcelona's CCIB hosts successful 118th AES Convention"
Designed by architect José Luis Mateo, the new Centre Convencions Internacional Barcelona (CCIB) - opened just a year ago - is considered to be one of Spain's finest examples of modern architecture. And justly so. Centered in the "Southern California of the Mediterranean," Barcelona proved an enjoyable venue for this well-attended convention.
Genelec introduced the new 8020A two-way active monitor and companion 7050A subwoofer, the former designed as a "baby-brother" addition to the 8000 Series. The 8020A measures just nine inches tall and features a 4-inch LF driver plus 3/4-inch tweeter in a diecast aluminum enclosure that incorporates the firm's Directivity Control Waveguide for linear on/off-axis response. Auditioned against current members of the 800 family, the new addition is outstanding! (US price: TBA.)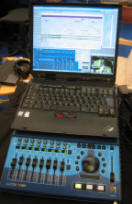 Nagra demonstrated a new hand-held recorder for radio journalists that offers both PCM-linear and MPEG record modes. The ARES-M sells for €800 ($1k) and features a plug-in mic, USB connectivity, 1 GB of internal memory, an audio editor and a built-in FM receiver - the unit runs, Nagra claims, for 10 hours from a pair of AA cells.
First-time exhibitor Mercenary Editions showed a range of new Great River, Pendulum, Little Labs and related products; Jonathan Little was showing the new lmnopre Microphone Preamplifier that cost $1,200 and includes a DI input, phantom power, phase adjustment and LF resonance controls in a robust aluminum package.
HHB unveiled the new CDP-88 remote-controllable CD player, a 1U unit that features 24-bit Sigma-Delta converters and external 32-96 kHz word clock. Serial, parallel and IR remotes are included.
SADiE unveiled LRX Remote - shown right - a laptop-based location recorder with motorized fader-equipped controller, jog wheel, built-in editing and expandable I/O up to 24 analog/digital sources and direct tracks. A built-in video playback enables on-set ADR - a neat touch.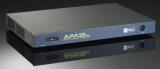 Waves demonstrated the new and much-anticipated APA32 - shown left - and APA44-M Audio Processing Accelerators, which can be stacked up to eight deep to provide enhanced DSP for fully-stressed workstations. Both units connect via 100M or 1G Ethernet and come bundled with APA-compatible plug-ins. The APR32 costs $1,600 and the -44-M $2,400.
Finally, this ever-cynical reporter made a point of visiting 2+2+2 Marketing's demo room, to hear what was promised to be multichannel playback with a difference. A horizontal playback area bounded by left, right, left-rear and right-rear loudspeakers is supplemented by an additional pair of loudspeakers mounted directly above L and R units at height equal to half the distance between that latter pair. A companion mic array of at least three stereo ORTF or spaced omni pairs (extras for the rear ambiance, if necessary) is routed to these six playback channels. During an auditioning session with chamber music, a cathedral organ and various "sonic fireworks," I was pleasantly surprised at the depth, width and, yes, height of the playback soundfield. Definitely worth checking out. (www.222sound.info)
VIDEOGRAPHY - Interesting new audio-for-video developments at AES Convention in Barcelona
In addition to the regular North American gatherings each fall alternatively on the East and West coasts, the Audio Engineering Society also holds a European Convention that attracts a wide audience of professionals from the video, audio and broadcast industries. This year's venue was the recently completed Centre Convencions Internacional Barcelona (CCIB); designed by architect José Luis Mateo, the center is considered to be one of Spain's finest examples of modern architecture. I would not disagree - and it also provided an excellent backdrop for some of the latest audio developments targeted at project-video and related facilities.
Genelec unveiled the new 8020A two-way active monitor loudspeaker and companion 7050A subwoofer, a combination that packs a lot of high-resolution power into a small package. Available in black, silver and white diecast aluminum enclosures, the new 8020A is a "baby-brother" addition to the highly popular 8000 Series. Measuring just nine inches tall and featuring a 4-inch LF driver plus 3/4-inch tweeter, the new offerings incorporate Genelec's DCW (Directivity Control Waveguide) that ensures smooth on/off-playback axis response for multichannel and stereo arrays.
The firm considers that the 8020A was designed specifically for monitoring in "difficult listening environments," particularly those compromised by lack of space. The unit is recommended for compact edit and playback rooms up to 2,300 square feet, with a typical listening distance of between four and six feet. The system's Minimum Diffraction Enclosure features a relatively large internal volume, matched with curved edges and outstanding mechanical strength. The result, as this writer can attest, is accurate imaging and LF extension in a compact enclosure. Free-field frequency response is a quoted 66 Hz to 20 kHz (± 2.5 dB), with maximum peak SPL output per pair of 105 dB at 1m.
Solid State Logic showcased a major development for its well-received AWS 900 Analogue Workstation, which comprises a 5.1-capable analog console front end and a digital control section for the attached DAW, including full HUI-based command of mix/edit functions. In essence, the AWS 900 provides enhanced level, processing and plug-in control for a variety of popular workstations, including Digidesign Pro Tools, Apple Logic Pro and other popular offerings, and enables simultaneous control of parameters from a familiar control surface - no add-on fader modules or a clumsy mouse/keyboard interface.
The new AWSomation option enables all automation adjustments made, for example, during a final print-mastering or layback stage using a number of premixed 5.1-channel DME stems - or while applying additional dynamics control or EQ - to be scanned and memorized. Since we are replaying balanced stem elements from the DAW, such dynamic changes will not be stored in the host application; instead they need to be derived from the SSL's downstream mixing section - hence AWSomation. A handy Join Function allows mix-automation settings to be developed in the middle of an audio cue and then the data written from a selected in-point - the start of a scene transition, for example - at the push of a button. (Usefully, all automation data can be stored and retrieved within the DAW as MIDI System Exclusive data.) MIDI timecode is used for positional reference while MIDI Machine Control (MMC) offers full locate commands.
Euphonix demonstrated the new System 5-MC Integrated DAW Audio Mixing System, which combines the familiar System 5 control surface with the new MC Intelligent Application Controller. The latter connects via an Ethernet-based EuCon topology to a variety of compatible workstations, including Steinberg's Nuendo and Merging Technologies Pyramix. (A HUI-based control option also is available for such DAWs as Pro Tools, Logic Pro, MOTO Digital Performer plus others.) The centrally mounted MC also includes 56 LCD SmartSwitches that can be programmed to send out keyboard macros to speed up operation with any PC- or Mac-based application.
Since media production requires the simultaneous use of several applications, the new System 5-MC's control surface can be switched each time a different edit or mix program is activated - the system can also switch control between several DAWs at the touch of a button. As I discovered, Euphonix has spent a great deal of design effort to ensure that the operator can switch out of the "tweak" mode when mixing, and hence provide the feel of a conventional console without the need to constantly grab a trackball; in this way, the user can concentrate on the balance of the mix - just like we could in the good old days before workstations!
Digidesign wowed AES attendees with demonstrations of the remarkable new ICON D-Command medium-format console which, like the original D-Control surface, utilizes Pro Tools|HD Accel as its DSP mix engine using Pro Tools|HD I/Os and peripherals. Equipped with a choice of either eight or 24 channel faders, the new DAW console features touch-sensitive motorized faders, two multi-purpose rotary encoders and multiple pushbuttons per channel strip. D-Command's intuitive and clear front-panel layout includes a central Main Unit for fast access to essential functions, plus dedicated EQ and dynamics editing panels, a monitoring area and other commonly accessed controls within easy reach. The system also includes the XMON analog monitor and communications system, and offers simultaneous six-channel mixes (mono thru 5.1 surround).
And, in related news, Digidesign announced an exchange program that allows ProControl or Control|24 controllers to be swapped out for ICON D-Control or D-Command work surfaces. The recently announced Pro Tools TDM 6.9.2 software, in addition to adding support for Mac OSX 10.4/Tiger, also includes firmware updates for ICON D-Control and D-Command.
Fairlight, which offers a range of high-end digital consoles and DAWs, announced a high-definition version of its Pyxis non-linear video system that offers both uncompressed and compressed playback. Incorporating a new PCI card capable of locking to various sync signals, and also supporting Black Magic Design's HDLink hardware, the new HD range includes a standard SD player/recorder, an SD player/recorder with Genlock and SDI I/Os, an HD/SD network player and an HD/SD player recorder with SDI and Genlock supporting JPEG or 4:2:2 uncompressed video. All versions operate in NTSC or PAL and at any standard frame rate. In addition, the new HD versions provide support for 24 and 23.98 fps film operation, and can reference Tri-Level sync as master timing reference. LTC can also be generated at any required rate enabling Pyxis to serve as a master source.
Pyxis-ADR can be used to spot ADR takes directly into an edit list that can be used to control and cue external audio recorders. In this way, users can enter In/Out timecode positions for the required take and store these within a Pyxis project. Recording is then accomplished with a simple one-touch operation that includes generation of all video streamers, cueing and user-defined pre-rolls.
SADiE demonstrated the new LRX Remote, a laptop-based location recorder whose control surface comprises a small assignable mixer with eight motorized faders that allow rapid switching between inputs and output busses with simple bank switching. Features include pre-fade listen and dedicated record enable buttons; a complete editorial interface with fully-weighted jog wheel and edit buttons; locator memories; transport controls and headphone monitoring. Timecode and Genlock also are included.
The LRX system utilizes the same eight-channel analog/digital I/O cards as the SADiE H64 workstation; three cards can be incorporated for full 24-track capacity. A second hard drive of DVD-R recorder can be connected via USB2 or Firewire to mirror recordings and/or provide a simultaneous safety copy. In addition, a video stream can be simultaneously captured for playback or ADR while actors are still on set.
Realizing that even current-generation DAW engines might lack the horsepower to run multi-dimensional plug-ins, WAVES announced a pair of APA Series Audio Processing Accelerators that bring dedicated external DSP to the task. As the firm says so succinctly, the APA32 and APA44-M Accelerators offer the power to do the heavy lifting that current mixing projects demand! For example, the APA32 will run six IR-1 Reverbs or nine Linear Phase Equalizers at 44.1 kHz; the APA44-M adds 30% more plug-in power. WAVES offers a range of elegant native/TDM plug-ins for Pro Tools, Cubase, Nuendo, Logic Pro, Digital Performer and other DAWs.
Both units feature standard Ethernet ports, eliminating the need for a dedicated PCI card or Firewire/USB connections. Up to eight APA units can be connected to a host PC/Mac using a standard Ethernet router or across a V-LAN switching system using the supplied NetShell software. For example, with access to 16 APA units and four DAWs, users could allocate four APAs to each computer. But, for a DSP-intense project, two DAWs each running eight APAs can be configured by simple cable swapping. A truly flexible solution.
DTS demonstrated the new Pro Series software encoders for DTS-encoded content. The PC/Mac-compatible Pro Series Encoder accommodates DTS Digital Surround for 5.1 channel surround sound, DTS-ES 6.1 discrete and DTS 96/24 for high-resolution audio on DVD-Video at a choice of four sampling rates and three bit rates between 754 kbps and 1.235 Mbps (1.5 Mbps is required for 96 kHz sample rates). The Pro Series network encoder is designed for multi-user facilities using Apple Computer's Xserve topology.
Also announced: strategic partnerships with C-Media Electronics and Realtek Semiconductor that will enable DTS audio technologies to be included within these companies' chip sets for PC motherboards, plus PCI/USB soundcards. DTS Connect-enabled PCs provide DTS Interactive while Neo:PC offers multichannel and stereo content. DTS Interactive enables single-cable connection via a digital output to a DTS-enabled surround sound system by encoding all audio onto a DTS-compatible Bitstream, while Neo:PC transforms stereo content into a 7.1-channel surround sound experience.



The contents of this news feature is exclusive to and the sole property of Media&Marketing ©2021. All rights reserved. This material cannot be reproduced in whole or in part without written permission.

©2021 Media&Marketing. All Rights Reserved. Last revised: 01.01.21