A double-page ad for Otari Corporation, developed while Mel Lambert served as Otari's International Marketing Director.
ADVANTA™ Series Large-Format Digital Production System was designed to offer outstanding Sonic Quality, Dynamic Recall/Reset of every parameter, comprehensive Assignability, Scalability, and full Connectivity with other components.
The ad was also offered in single-page formats.
Another double-page ad for Otari Corporation, RADAR II™ HDR Series represented a dramatic breakthrough in operational convenience and sonic quality. Combining the familiarity of a traditional multitrack with the speed and efficiency of a removable hard drive, the new RADAR II offer 24 or 48 tracks of 24-bit record/replay.

Again, the ad was also offered as a single-page.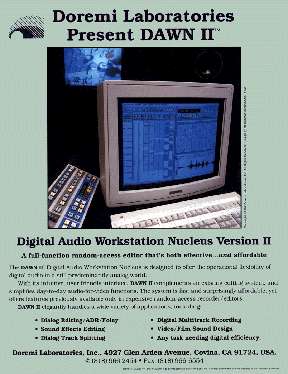 A full-page ad for Doremi Laboratories' DAWN II digital audio workstation ran in several industry trade magazines, and secured additional visibility for this high-tech company and its products.

A simple yet elegant layout allowed the technical information to reach its targeted audience clearly and succinctly.