Sherman Oaks, CA- Steven Klein SCR, a leading designer and builder of commercial recording studios, project studios and post production facilities, recently completed two noteworthy creative spaces for a talented musician/producer and an actor who is developing a voice-over business. Damian Dragici has converted a spare room in his home into a music production area with companion control room, while Wayne Thomas Yorke - best known for his role as spokesperson in the UPS/Mailboxes Etc. TV ad campaign and the Orkin Pest Control TV and radio ad campaigns - has converted garage space into a self-contained production area with a soundproofed voice-over studio. Both projects were designed and supervised by Steven Klein. "These new spaces presented their own unique challenges," Klein concedes. "But the end results are flexible, cost-effective environments that enable Daman and Wayne to concentrate on the creative process of making music and preparing commercials."
Musician's Project Studio - with a difference!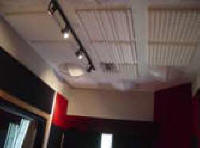 Damian Dragici's
new Project Studio
Damian Dragici is a Rumanian-born film-score composer and music producer who specializes in world music and related music styles. "I wanted to convert a second-floor bedroom into a 350 square foot control room and tracking space," the producer confides. "We ended up with two, equal-volume connected areas with a windowed wall between them." The project included the installation of sound-isolation materials, doors, windows and acoustical treatments.
Insulation was blown into the wall cavities, a layer of vinyl barrier placed onto the wall and ceiling and then capped with an additional layer of 5/8-inch drywall. Steven Klein installed isolation doors, windows were retrofitted with Quiet Windows, and a custom control-room window constructed. "The acoustic treatment was designed to fit a defined aesthetic and budget, and was custom designed for the use of the space," Klein explains.
Recording equipment includes a Digidesign Pro Tools HD Digital Audio Workstation and Apple's Emagic Logic software running on an Apple Macintosh G4, connected to self-powered Genelec Model 1031 A control room monitors and subwoofer. A piano is housed in a nearby loft.
"The new studio is wonderful," Dragici enthuses. Initial recordings at the new facility include a Chinese ensemble and Cuban Music. "It is a great job. The construction is excellent and the sound quality is very, very good. I couldn't be happier."
A Commercial/Jingles Voice-over Studio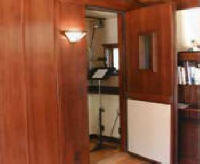 Wayne Thomas Yorke's
new Voice-Over Booth
Wayne Thomas Yorke portrays the affable UPS employee/spokesperson who explains the virtues of the new UPS/Mail Boxes Etc. operation - now described as the world's largest retail shipping, postal and business services franchise company. He has also appeared in TV ads for Orkin Pest Control, Denny's and Liquid Plummer. Wanting to branch out into the potentially lucrative voice-over market, Yorke recently contracted Steven Klein SCR to design and build a compact voice-over booth in his garage.
Steven Klein SCR consulted and provided specifications for the voice-over build out, including isolation, electrical, ventilation, and installation of acoustical treatments. "The assignment included adding acoustic treatments for broadcast quality recording." Klein explains. "Small spaces are challenging, especially for voice. An elaborate seven-inch deep absorber fills the back wall, floor to ceiling. A 1.75-inch system is on the walls above the chair rail, and a one-inch system on the ceiling. Upholstered walls hide the acoustic treatments."
"They were the perfect people for me," Yorke enthuses. "As a beginner I had called friends for advice. They said I should call Steven Klein, his assistant Jon [Schlesinger] came to see the space, and had lots of ideas for me. It was everything I needed as a beginner. The project fell into place and we completed the conversion in one week. It was an excellent experience!" Yorke also worked with a local equipment retailer, RSPE Audio Solutions, which supplied the production equipment and ISDN unit, and Pat Schneider of P.S. Tech, who set up and wired the entire system.