Springtime in Berlin has a lot to offer: sunshine in what is now being referred to as the new cultural centre of the United States of Europe, and a slew of new product offerings in the state-of-the-art Messe fairgrounds center for the 116th AES Convention, May 8 thru 11. And although, as in previous years, the broadcast community outnumbered attendees from the music recording, post and film industries – most European countries still support a thriving state-owned network of radio and TV stations – there was plenty to interest everyone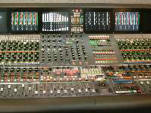 .
AMS Neve spotlighted a new confirmation of the MMC Aquarius Digital Console (right) for stereo and 5.1-channel music production, and which features new 24/96 DSP, updated operational features and a new I/O matrix capable of accessing over 600 channel paths. High-resolution TFT meters and GUIs compliment an enhanced monitor panel with automation control and displays. Also to be seen: the new Model 1073 DPD Pre-amp, which comprises a dual-channel mic pre-amplifier section from the vintage Neve 1073 Channel Amplifier; analog and optional DSD and PCM outputs are available.
Apogee Electronics unveiled the Rosetta 200, a two-channel AD/DA version of the much respected Rosetta 800 eight-channel unit, featuring standard 192 kHz sampling frequency, sample-rate conversion and MIDI control I/O. Optional X-Series (Pro Tools HD and Mix) plus FireWire expansion cards are also available, along with core Apogee technologies such as UV22HR and SoftLimit. Rosetta 200 features the new CODA Processing Engine – a new proprietary tool, Aptomizer, is said to maximize levels without increasing noise or distortion - plus Intelliclock, full channel metering and S/P DIF I/O. List price: $1,995.
CB Electronics was spotlighting a new PEC/DIR Controller that provides familiar button and paddle control of a range of digital audio workstations from video and film dubbing consoles. Currently, the new panel provides plug-and-play control of Digidesign Pro Tools and Merging Technologies Pyramix; others DAWs are in the works. Simple-to-use keystrokes enable set up for eight Master Groups, 16 Stem Assignments and 64 Record Tracks, with full track arming and I/O switching. Future plans call for downloading/recalling system setup as Metadata via a 9-pin serial port, and which can be saved with the DAW's project data. The UK-based company's custom-developed serial control products are available in the USA through Audio Engineering Associates and Audio Intervisual Design.
Digital Theater Systems introduced a new suite of PC/Mac-compatible encoders to create DTS soundtracks. Claimed to provide the only 96kHz solution for both DVD-A and DVD-V projects, two of the encoders are said to comprise the first commercially available solutions for creating 96kHz and 6.1-channel discrete DTS material. There are two stand-alone encoders for Mac and PC: a 48kHz/5.1 package and a 48kHz/5.1-channel and 96kHz/ES encoder unit. And the new DTS X Encoder for Apple's Xserve RAID enables Mac- or PC-based users to remotely access and encode information via a company Intranet and LAN. All three encoders are expected to begin shipping in late-Summer.
Euphonix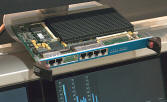 organized a fascinating demonstration of EuCon connectivity. A System 5 surface was controlling not only the firm's Core Engine and a Steinberg Nuendo DAW via the Ethernet-based protocol, but also the new 128fs Oxford Mix Engine from those talented Brits at Sony Pro Audio Laboratory (left), the group responsible for developing the Sonoma DSD Editor/Mixer and the now defunct OXF-R3 Multichannel Console. The new 1U device provides up to 48 channels of EQ, dynamics and mixing, and features SuperMAC I/O; conventional PCM operation is supported as well as Direct Stream Digital. The Euphonix demo consisted of 16 DSD channels feeding six busses controlled from the System 5. As Euphonix' Martin Kloiber offered: "Scoring, mastering and high-end music production studios have expressed interest in a DSD mixing solution."
Genelec

wowed the assembled throng with demos of the much anticipated 8000 Series Studio Monitors (right). The 8030A, 8040A, and 8050A active bi-amplified trio (which replace, respectively, the 1029, 1030 and 1031) feature a new Minimum Diffraction Enclosure with rounded edges and curved front and sides. According to designer Harri Koskinen, "This specially-shaped and very smooth surface is integrated with the enclosure; its area has been maximized to achieve an astoundingly flat on and off-axis frequency response." The new design is said to provide a wide and consistent listening window, as well as minimizing early room reflections and other colorations, an assessment that was confirmed during extensive listening sessions. Price, per unit: 8030 $595, 8040 $1,150, and 8050 $2,050.
Lawo

was emphasized recording and post applications of its remarkably flexible mc266 Digital Production Console (left), which features a compact design, lightweight construction and low power consumption. The mc266 accommodates an integral routing matrix that handles 3,072 mono inputs and outputs, assigned to 192 DSP channels and 144 buses. All modules are hot pluggable. An integral GUI and control PC ensures easy-to-set console topologies, while a clearly organized center section enables fast routing configurations. New features includes parallel track summing, integrated monitoring and console split with doubled PFL/AFL summing plus isolated bank/layer switching.
Merging Technologies unveiled the new OASIS Command Protocol for integrating the firm's Pyramix Series workstation with digital consoles. OASIS (Open Audio System Integration Solution) is similar in concept to Euphonix' EuCon protocol, and provides a range of application-specific commands for communicating between console control elements and Pyramix DAW functions via a high-speed Ethernet port. "Integration should be based on a world-wide open protocol," stressed Merging Technologies president Claude Cellier. "It would then allow customers to select their preferred equipment based on what best suits their needs, without being locked into a proprietary, closed, single manufacturer solution." The company reported joint development agreements with both Harrison and DiGiCo. Also being shown: a Native version of Pyramix that runs on any laptop or desk PC; prices start at €550.
PMC/Professional Monitor Company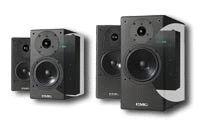 was showing a new series of DB1-A and TB2-A Studio Monitors (right) that feature integral digital power amps. The self-powered monitors house Flying Mole digital Bi-Phase Fusion reference amplifier modules, each weighing just 1.1 pounds and supplying 160W into 4 ohms. Proprietary LF drivers and cabinet design, along with hand-built crossover electronics, are said to ensure ultra low distortion and compression characteristics, enabling consistent performance at high SPLs. Both units incorporate PMC's 140 mm/5.5-inch and 170 mm/6.7-inch LF drivers, respectively, with the same 27 mm/1.1-inch soft dome tweeter used in the company's larger midfield designs. Also on show: Flying Mole Corporation's range of compact DAD-M100pro digital power amps.
SADiE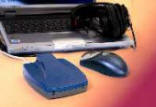 unveiled the new compact BB2 and BB2-J Portable Workstations (left) that connect to a host laptop or desk PC via a USB 2.0 connection. Designed into an injection-molded casing, the portable units are said to be simple to install and provide a cost-effective solution for location applications. (The BB2-J version adds a jog-wheel controller.) Connections are provided for analog and digital I/O, headphone and a stereo mic input. A simplified user interface is concentrated into a single window, and allows the recording and editing of up to eight tracks with level and pan controls, transport, clip selection and master output level controls. Full data interchange with SADiE Series 5 DAWs is offered. Preliminary pricing: BB2 $1,155; BB2-J $1,695.
Solid State Logic spotlighted a new XL Analog-to-Digital Converter Module for the popular XLogic SuperAnalog Channel. The new add-on unit runs at sampling rates between 44.1 and 192 kHz at 24-bit resolution, and provides a short signal path from pre-amp to ADC. The module provides two channels of conversion at multiple sample rates, including allowances for varispeed and conventional pull-up/down ratios; a single unit can be shared between a pair of XLogic Channels. List price: $650.
Studer offered regular demos of the evolutionally Vista 8 Digital Live Production Console, whose combination of processing power and visionary Vistonics User Interface was attracting a lot of critical attention. A new Control Bay design manages to pack more faders into a small footprint, making it ideal for space-conscious installations in mobiles, concert halls and theatres, with integral snapshot and playlist management plus MIDI control of external effects units.
And, finally,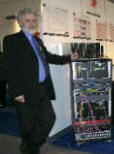 AES Standards spotlighted practical uses of the AES47 Standard for carrying digital audio over ATM networks at the British Broadcasting Corporation and Capital Group in the UK. Using off-the-shelf Asynchronous Transfer Mode hardware, both broadcast organizations are transferring multichannel AES47-complaint signals between remote studios and transmitter sites. ATM offers extremely low latency (around 1 mS), mixed sample rates and bit depths, and offers a routing structure that can be set up as One-to-One, or One-to-Many. The BBC, for example, is using 155 Mbit/sec ATM highways to carry up to 40 channels AES-format signals in each direction; two unused pairs on each CAT5 cable carry a back-up stereo signal, plus a dedicated multirate sync reference. Pictured right: Chris Chambers, Senior Research Engineer at the BBC's R&D Center, with an AES47 Technology Demonstration using ATM network components.
In the formerly divided city of Berlin, it was heartening to see the words of broadcast and music/pro coexist so harmoniously; quite why so few live-sound manufacturers decided to support the AES Convention still remains a mystery, however. Next year's European event will be held on mid-May at the new Convention Center in Barcelona, Spain.




"Inside the Convention.."
Mel Lambert's reports for "The AES Daily"
Sunday May 9, 2004: As in previous years, Friday's pre-convention Symposium gathered together a number of industry luminaries to focus on a contemporary hot topic; this year it was the turn of multichannel radio broadcasting. Co-chaired by Jürgen Marchlewitz, of Westdeutscher Rundfunk, and Martin Wöhr, Bayerischer Rundfunk (pictured right), the one-day Symposium provided a unique opportunity to review the current state-of-the-art in multichannel delivery via satellite, broadband internet and other media, as well as examine archiving and infrastructure requirements.
Addressing real-word surround-sound production and delivery, Bosse Ternström from Swedish Radio, and Kimio Hamasaki from NHK, Tokyo, emphasized that existing infrastructures can handle data-reduced multichannel audio running at up to 1.5 Mbits/seconds; Swedish Radio has broadcast a number of programs with DST-encoded surround, while NHK favors 384 Kbit MPEG-2 AAC. "5.1-channel surround sound is the future of digital radio," Hamasaki stressed.
During a session on Archiving Multichannel Productions, Udo Appel of Bayerischer Rundfunk detailed the design criterion for a tape robotic system to store essence data with companion metadata, while Yvonne Graf of IBM-Germany described the ADMIRA system for managing data files and add-on agents for generating application-specific metadata. "Multichannel productions are just another format for your digital archive," she considered. (The soon-to-be-released IBM Ice Cube will store 26 TBytes of data in a 60x60x60-cm package.)
Broadcast Distribution was covered by Heinz-Peter Reykers, Westdeutscher Rundfunk, who described a flexible system for carrying two stereo channels and an AC3-endcoded surround channel over a 2-Mbit E1 lines, while Gerhard Möller of DAVID-Germany focused on his firm's new workflow for packaging data from acquisition through integration to delivery, including use of Extended BWAV files.

Dr. Francis Ramsey from the University of Surrey (pictured left) described a fascinating research study into the affect of reducing bandwidth and data channels on perceived sound quality – dependent upon the program material, it would seem that we can trade off both parameters to reduce overall data rate, with minimal sonic impact – while Günther Theile of IRT described a variety of downmix schemes. And Gerhard Stoll from IRT provided an animated overview of the Institute's MCAT (Multi-Channel Audio Transmission) Working Group.
Asked the highly relevant question: "What is the future of multichannel radio?" responses from symposium participants and industry insiders ranged from optimistic to pessimistic. "People want 5.1-channel," Swedish Radio's Ternström enthused,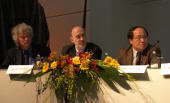 while Ernst Dohlus from Bayerischer Rundfunk questioned the added cost. "Who are our customers," he queried? "Most of them use radio as background or while in their cars, or in rooms that are too small for surround sound." In contrast, IBM's Graf stated that Dolby Digital is already being used by consumers for DVD-Video playback; many radio listeners already own 5.1-channel home theater systems.
"Radio is a high quality provider," NHK's Hamasaki stated (pictured extreme right in adjacent image), "and can give an impetus to the audio community," while DAVID's Möller (pictured center in adjacent image) offered that "radio can add spatial awareness, even in automobiles." IRT's Theile ((pictured extreme left in adjacent image) concluded that "multichannel radio is a high-quality deliver medium, capable of motivating listeners."
As was to be expected, the symposium provided a unique opportunity for in-depth discussions on up-to-the-minute issues.

Fourth-Generation DAWs – Ready for Primetime?
Monday May10, 2004: While wandering these hallowed exhibition halls, I was struck by a dramatic example of technological convergence. That two leading pro-audio manufacturers had reached the same conclusion was remarkable; that their response appears so different is highly significant. I'm referring, of course, to integrating multichannel mixing, editing and signal processing within a single system, to take full advantage of the DSP power of today's fourth-generation DAWs. The new Digidesign ICON Integrated Console (pictured lower left) and Solid State Logic AWS 900 Analogue Workstation System (pictured lower right) both offer one-stop mixing, editing and signal processing, but with dramatically contrasting topologies.
Digidesign (stand 3208) decided to develop an advanced work surface and proprietary protocol that enables every Pro Tools control setting, including plug-ins, to be modified from assignable front-panel faders, knobs and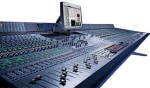 switches. Now, as David Gibbons, Digidesign's Director of Product Management, explained, "ICON breaks down the workflow barriers in which people have been trapped. Mixing a music and sound editorial project is a continual process; our customers need the ability to start a project on one Pro Tools system, and continue on another, but without losing the ability to recall the entire project and all of its control settings. ICON opens up a large number of options for users."
"A Pro Tools user can start a session on a 002 or MBox and laptop PC," continued Rich Nevens, Digidesign's International Sales Manager /Consoles, "and finish in a commercial studios without loosing any of the project's evolving mix, EQ, dynamics and plug-in settings. Everything stays with the sound files; you just have more access to the [control] settings on the ICON's [D-Control Tactile Worksurface] than a PC/Mac GUI. Using a separate add-on analog or digital mixer is archaic; you shouldn't have to use two automation systems. The ICON control surface is an extension of Pro Tools."
Niall Feldman,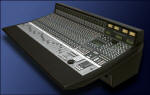 the firm's Director of Product Marketing, stressed that SSL (stand 2202) developed its hybrid AWS 900 from a different perspective. "AWS 900 is a combination of a compact analogue mixing console and a comprehensive DAW controller," he explained." We were the first company to integrate automation and machine control into the mixing console, and SSL pioneered surround mixing. The new AWS 900 delivers the same powerful integration benefits to DAW users, who face similar challenges." By incorporating Mackie's HUI MIDI-based command protocol, users of Pro Tools, Nuendo, Logic and similar DAWs can benefit from a fully-analogue front-end for tracking and overdubs, mated to with a sophisticated 5.1-channel monitor section. During mixing, of course, all of the AWS 900's assignable faders and knobs control mix levels within the companion workstation.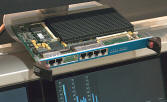 Bang in the middle of this all-digital-thru-analog–hybrid continuum lies Euphonix (stand 3737), which is demonstrating EuCon-based control from a System 5 worksurface of not only its own DSP Core and a Steinberg Nuendo digital audio workstation, but also the new Sony Oxford Mix Engine (pictured left), which offers one-bit/128Fs DSD or 192 kHz PCM mixing, EQ and dynamics. Now it's possible to mix both DSD and PCM projects using dedicated hardware and DAW engines hooked to a familiar control surface.
It's all about appropriate hardware and connectivity; after all, creativity doesn't exist in a vacuum these days.
>>SSL AWS 900 Hybrid System >>Digidesign ICON Integrated Console >> EuCon Protocol overview

The contents of this news feature is exclusive to and the sole property of Media&Marketing ©2023.
All rights reserved. This material cannot be reproduced in whole or in part without written permission of Media&Marketing. Primary images ©2023 content-creators.com.


©2023 Media&Marketing. All Rights Reserved. Last revised: 02.20.23