Audio Production for 50th Grammy
Awards in 5.1-channel surround
Embracing an inevitable all-digital broadcasting future.
Written by Mel Lambert in February 2008
With just 12 short months until the analog turnoff for terrestrial broadcasting in February 2009, the major networks are anxious to promote the advantages of all-digital 1080/720 transmissions with 5.1-channel surround sound. To this end, the Recording Academy's annual Grammy Awards ceremony is a unique opportunity to showcase surround broadcast at its very best. And this year's 50th Grammy Awards, broadcast in mid-February from the Staples Center, Los Angeles, chose to spotlight the legacy of the past and the challenges of the future. Co-produced for The Academy by Cossette Productions in association with AEG Ehrlich Ventures LLC, the show included a number of innovations, including live concert performances by the Foo Fighters and winners of My Grammy Moment contest from the nearby Nokia Plaza, plus a remote performance in London by multi-Grammy winner Amy Winehouse.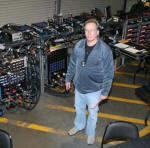 Audio Coordinator
Michael Abbott
While the February show marked the sixth year that the telecast had been broadcast in HDTV/5.1 surround sound, this year the organizers decided to make life a shade simpler. CBS asked the show's producers to prepare a single, no-compromise 5.1-channel mix, and accommodated analog and SD viewers with a two-channel downmix prepared at the network's broadcast center in New York.
Again, Audio Coordinator Michael Abbott (pictured right) was responsible for infrastructure that supported a trio of broadcast mix rooms required for the CBS broadcast, plus pre-records at nearby Capitol Studios, the remixing of legacy recordings for the 5.1 performances of The Beatles Across the Universe soundtrack and Love segments with Cirque du Soleil]. "We also had the opening segment remix of original multitracks from the first Grammy Awards broadcast featuring Frank Sinatra, a remote music mix from the Foo Fighter and a last-minute Amy Winehouse UK remote." Abbott worked closely with Hank Neuberger of Springboard Productions and Phil Ramone, Chairman Emeritus of the Recording Academy's Producers & Engineers Wing, both of whom supervised the broadcast audio.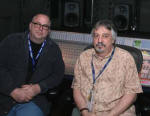 Music mixers John Harris and Eric Schilling
XM Productions/Effanel Music provided its L7 Mobile Recording Studio for music mixing of live acts within Staples Center, with John Harris and Eric Schilling (pictured left) taking turns with alternate acts. Joel Singer served as Effanel's Engineer-in-Charge. A total of 192 Aphex 1788A Remote Controlled Mic pre-amp channels were provided for L7 from the stage area, routed via a fiber-optic "A" and "B" system. "That configuration allowed us to have the next setup recalled and ready to go when we switched to it," Singer points out. The Denali Silver broadcast mobile was on hand in the nearby Nokia Plaza to mix the Foo Fighters' concerts. Eighth Day Sound Systems handled sound mixing for the band, using a Digico D5 Digital Live Console for front-of-house; the main PA comprised a D&B line array powered by Lab:gruppen amps.
"Since the Foo Fighters' stage [in the Nokia Plaza] was 300 yards away from L7," explains Neuberger, "it was a challenge mixing in a separate video truck. Eric Schilling went over to the truck by golf cart during the middle of the live telecast! Also, the Amy Winehouse remote from London came together late in the day - the first time we heard it was during Dress Rehearsal, on show-day morning."
As on previous occasions, a second mixing environment was provided for the music mixers to refine various mixes memorized during rehearsals on the L7's Digidesign ICON Assignable Console and Pro Tools HD|6 Core. The Offline Remix Booth (ORB) housed an identical ICON control surface and Genelec DSP 8200 Series monitors. Pro Tools Session files and QuickTime reference video from rehearsals were reloaded and static 5.1 surround-mix levels, EQ and dynamics settings developed for the musical acts, often with the artist's mix engineers in attendance. Updated ICON settings were loaded onto portable drives and returned to L7 for the broadcast. TC Electronic supplied several reverb effects plug-ins, in addition to the new TubeTech CL1-B Compressor.
Readily conceding that the ORB Gelco trailer, as a remix area, left something be desired, Singer looked for a cost-effective solution. While the operation's Genelec DSP 8200 Series loudspeakers feature built-in digital equalization, "that only goes part way to overcoming acoustic anomalies," Singer concedes. "The untreated ORB environment meant that the [DSP] was working pretty close to its limits. To help it along, we asked Media Specialty Resources [MSR] to provide a series of [StudioPanel] absorbers, diffusers and bass traps for the walls and ceilings." The treatment made a big difference, Singer says, "and meant that we had available more accurate monitoring within the second mix area."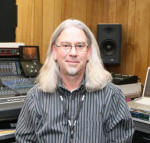 Audience Reaction Mixer Klaus Landsberg
Grammy veteran Klaus Landsberg (pictured right) helmed a separate Audience Reaction Mixing room, which received feeds from 34 mikes within Staples Center that were mixed on a Yamaha DM2000 digital mixer and a bank of 32 channels of Focusrite OctoPre pre-amplifiers. Monitoring was via JBL Professional LSR-4328P active systems. Audience mikes comprised Audio Technica BP4029 stereo shotguns, AT4051a cardioid condensers, AKG C547 hypercardioid boundary models on the stage front and four Sennheiser MKH-416 hypercardioid shotgun models positioned on the stage apron covering the left and right sides of the audience. Landsberg produced a 4.0-channel mix: front left-right and rear left-right. The final mix passed through a pair of CEDAR DNS1000 Dialog Noise Suppression unit "for room shaping," Landsberg says, and then to a TC Electronic DB-8 Broadcast Processor used as a 5.1-channel multiband compressor "to make a cohesive whole" of the multiple mike sources.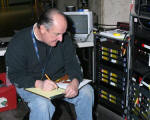 RF Coordinator
Dave Bellamy
Stage microphones included wired and wireless models from AKG, Audio-Technica, DPA, Earthworks, Sennheiser, Shure and Neumann. Soundtronics' Dave Bellamy (pictured left) again served as the show's frequency coordinator, working with Bill Kappelman, as more than
40 wireless mikes were re-used during the Grammy Awards. Sennheiser models included a custom decorated SKM5200 with an MD5235 capsule for Rihanna, and a SKM5200 mic with MD5235 capsule for Beyoncé. Sennheiser SKM5200 hand-helds were used by presenters Ludacris, Joe Mantegna and Bonnie Raitt, and an SKM5200 mike with MD5235 capsule for The Black Eyed Peas' Fergie, who joined John Legend to perform "Finally." The Foo Fighters' Dave Grohl used his usual Sennheiser MD431II dynamic, backed by drummer Taylor Hawkins on an Evolution Series e945 mike, while performing "The Pretender" backed by the Grammy Philharmonic Orchestra conducted by Led Zeppelin bassist John Paul Jones. Andrea Bocelli honored Luciano Pavarotti with Josh Groban during "The Prayer" on twin SKM5200s with MD5235 capsules. In London, Amy Winehouse used an Evolution 935 condenser mike during her two-song set.
More than 250 Audio-Technica microphones were available, including Artist Elite 5000 Series wireless systems. Artists using AEW-T5400 handheld wireless mikes included Kanye West, Morris Day and The Time with Rihanna; Kid Rock with Keely Smith; Aretha Franklin and BeBe Winans; John Fogerty with Little Richard and Jerry Lee Lewis; and The Beatles Sgt. Pepper finale. Backline A-T mikes included AE5100 for ride cymbal, hi-hat, overheads and strings; AE2500 for kick drum; AE5400 and ATM250 for Leslie cabinet; AT4050 for horns, overheads and guitar cabinets; plus ATM350 for strings.
Carrie Underwood used a custom Shure SM58/UHF-R wireless mike on "Before He Cheats," while Alicia Keys opted for a Shure KSM9/UHF-R wireless during her opening collaboration with Frank Sinatra on "Learnin' the Blues."
Additionally, Shure microphones such as KSM32, KSM137 and the SM57 were used on various band setups. The magnetically mounted DPA 4066 and the Earthworks Piano Mic PM40 were used on the show's eight acoustic pianos.
The Critical 5.1-channel HD Broadcast Mix

Broadcast Mixer
Tom Holmes
Multichannel submix stems from the audience reaction area and Effanel truck were received by NEP Super Shooter's ND4 Video Production Truck, where broadcast mixer Tom Holmes (pictured left) - using a 86-fader/dual-layer Calrec Alpha with Bluefin Digital Console - balanced these with playback sources and announcer microphones to generate a 5.1-channel broadcast mix. The Calrec console also received an LCR mix from Amy Winehouse's live appearance in London, together with a 5.1-channel mix from the Foo Fighters stage.
"My biggest challenge was to maintain consistency between the 5.1 HD mix and the stereo mix for analog and SD viewers," Holmes considers. "In the past, two mixers worked in [a pair of] control rooms to handle that task; this year there was only a 5.1 mix, which was folded down to a stereo [ProLogic II matrix-encoded surround] mix at CBS [New York]. To check compatibility, we monitored several consumer setups." These four mixes, according to Holmes, were:
a. 5.1 discreet for the people that have an HD signal, and a home theater surround audio system;
b. A flat fold down of that same 5.1 mix, for people that have an HD signal, but only use stereo speakers (maybe on the TV set);
c. Lt-Rt, the encoded 5.1, for people that receive an SD signal, and only use stereo speakers to listen to; and
d. ProLogic II, the decoded Lt-Rt, for people with an SD signal, but who are listening in surround on a home-theater system.
"We also needed to get the most audience response from an audience of industry attendees," which very often is far more subdued than a fan-based audience. "The show needed to sound as live as possible without washing out the music. But the rehearsals - with stand-ins, no audience and an empty arena - never really sounded very much like the real show. Although we are there for six or seven days, there is a lot of content. So you end up rehearsing a band or a production item for an hour and a half, but only do [a run through] two or three times. I always wish we had just one more rehearsal!"
All Grammy show numbers were performed in real-time, Neuberger stresses. "Moving over to a separate remote truck for the Foo Fighters was slightly awkward," he offers. "But since it was used for a single dedicated number, it was clearly the best solution." The Amy Winehouse live insert from the UK was mixed at The Riverside Studios, West London, by Tim Summerhayes. "For transmission capacity and reliability reasons it was decided to only transport three channels of audio from London," continues Neuberger. "Tim sent us an LCR mix with the vocal isolated in the center, so that we would to be able to put his three channels at unity onto our Production desk, and we would have his mix. It worked just as expected, and his balance was superb."
"Our biggest challenge came with the decision to supply only a 5.1 soundtrack," Neuberger concludes. "How should we best monitor the various mixes and downmix compatibility at our most mission-critical locations? With wonderful support from Dolby Laboratories we were able to provide our online and offline music mixers and our production mixer with the same encode/decode units, carrying the same metadata settings as CBS used at [New York] Master Control. The pragmatic approach was to have our mixers prioritize monitoring in 2.0 - the downmix - which is the way most of the audience listens. Both John [Harris] and Eric [Schilling] were disciplined in this regard, and checked both 2.0 and 5.1 throughout the performances."
Dolby Laboratories supplied a number of monitoring units to the production, including LM100 Broadcast Loudness Meters, DP570 Multichannel Audio Tools and DP563 Dolby Surround and Pro Logic II Encoders. "The DP570 let us check metadata settings and compare our discrete 5.1 mixes with other delivered mixes and decoded surround balances," Holmes says. "We could to monitor exactly what the consumer would ultimately hear." For added confidence, a DP563 was configured exactly as a unit being utilized by CBS New York, and used to encode the discrete surround broadcast mix into Pro Logic II Lt-Rt for monitoring of stereo and mono compatibility. Each of the music and production mixers used an LM100 meter to assure that the program loudness matched the Dialnorm metadata setting used by the network, which translates to the best possible performance of AC-3 audio that accompanies HDTV broadcasting.
ATK sound reinforcement - JBL VerTec Array with QSC amplification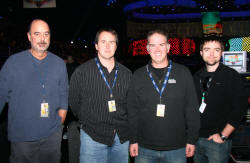 Left-to-right: FOH Music Mixer Ron Reaves, FOH Main Mixer Mikael Stewart, Sound System Manager Andrew "Fletch" Fletcher and Design Engineer Jeff Peterson.
ATK AudioTek once again flew a JBL VerTec system powered by QSC amps within the Stapes Center; XTA Electronics DP226 processors provided system equalization and routing. The four main clusters were composed of a dozen VT4889 line-array cabinets, augmented by an array of 12 JBL VT4880a subwoofers flown above the center of the main stage. QSC PowerLight 4.0 amps fired the HF/MF cabinets with PowerLight 9.0 models for LF cabinets and subs. Three clusters of delay loudspeakers comprised a total of 22 VerTec 4889 Line Array Elements, plus a dozen ATK C-6 three-way cabinets.
Two Yamaha PM1-D Digital Production Consoles handled front-of-house; two more PM1-Ds provided monitor mixing for the performance stages. Ron Reaves helmed the right-hand PM1-D console and delivered a stereo/L-R music submix, subwoofer/LFE mix and a vocals stem to ATK Vice President Mikael Stewart, who operated the main PM1-D and added stage announcements, pre-recorded tracks and other elements for the stereo house mix, plus delays and subwoofer. Tom Pesa and Michael Parker developed stage-monitor mixes.
According to Jeff Peterson, ATK AudioTek Design Engineer, "We put up 24 QSC PowerLight amps onto a flown platform [above the mix position and camera platform] to power the nine delay clusters. Since these amps require the Spiderman routine to get to, we prefer to control them remotely. We established a fiber Ethernet network between FOH and the amp platform. Then, using QSC's CM16a, we are able to control level, muting and power of the PowerLight amps from the ground. This year, we replaced the CobraNet network used to drive the delay amplifiers with a new [Media Numerics] RockNet 300 digital snake system. RockNet performed flawlessly - we had it set up in a completely redundant fashion, where any single device failure would not affect out audio path."
"As always, our biggest challenge was the room," offers AudioTek's Sound System Manager Andrew "Fletch" Fletcher. "Staples Center is big and cavernous and certainly sounds that way. The suites between the 200 and 300 level cause some very unpredictable reflections and resonances. We point the main PA down to cover the floor and the 100 level only, hence missing the suites. We can pretty much crank that up as much as we like without causing too many problems. The side-pointing clusters and the delays cover the suites and some of the 300 level. We adjust those so that reflections to the main floor are hardly noticeable while still giving good coverage to the people in the suites and the 'nose bleeds'. Everything else went very smoothly this year."
"The wonder of the Grammy Awards is due in equal measure to the pageantry and to the technical complexity of producing one of the world's most famous events in live entertainment television," concluded John Cossette, Executive Producer of the 50th Annual Awards Ceremony. "We have consistently expanded the impact of the Grammy's to our viewing audience."