Olympic Studios, London
An all-SSL Facility with a new 9000 K-Series
console in refurbished Studio #1
Written in1997 by Mel Lambert
Olympic Studios has an interesting history. Built in 1906 in the fashionable West London suburb of Barnes as an Edwardian music hall, the original building became a movie house in the Thirties, before being purchased in the mid-Sixties by Cliff Adams (famous in Blighty as founder of the Cliff Adams Singers, a popular vocal ensemble). Under the capable direction of technical manager Keith Grant, during the late-Sixties and mid-Seventies Olympic became perhaps the quintessential rock studio, with sessions with the Rolling Stones, Jimi Hendrix, Small Faces, Led Zeppelin, Eagles, The Beatles . . . the list goes on for ever. Key to the studio's outstanding success is often attributed to Keith Grant's personal love of large orchestral sessions. He made the main room at Olympic one of the best sounding, live-feel areas, and it is perhaps small wonder that the studio became popular for rock recordings. Hardware came and went, but during the late-Seventies the main room featured a custom-built, wrap-around Helios console.
That was then; this is now. In 1988, Richard Branson's Virgin Studios Group, owners of The Manor Studios in Oxfordshire, Manor Mobile, The Townhouse in West London, and related facilities, purchased Olympic from Cliff Adams. In early 1993, the entire operation was purchased from Virgin by Thorn/EMI. At that time, Olympic's Studio #1 and #2 featured identical 56-channel/32-buss SL-4000 G-Series boards with Total Recall, while mix/overdub Studio #3 offered a 64-channel/32-buss SL-4000 G-Series with Total Recall. Also available is a smaller pre-production, editing and MIDI Programming Room in the facility's basement.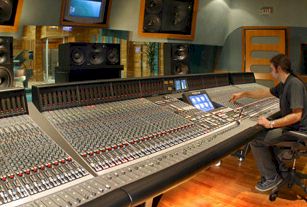 Studio 1 has since been upgraded with the installation of an 80-channel SSL XL 9000K analog console plus a Genelec 5.1 monitoring system.
---
In terms of a new console for Studio #1, Ian Davidson, Olympic's Director of Operations, says that he thought long and hard about the frame size needed to handle today's high-pressure sessions. "These days, 56 channels are just not enough," he considers. "Having looked at one or two other consoles, the more we thought about it, the more obvious it became that an SL-9000 was the one to go for. Although Olympic has always been an SSL studio - it felt good to be able to continue that tradition - more importantly, the SL-9000 with Total Recall has now had a chance to prove itself. It sounds fantastic."
"Why another SSL?" Davidson ponders. "Simply because it's really difficult to put a Neve into an SSL complex. We like the compatibility we now enjoy between our three main tracking and remix rooms; engineers are very familiar with the SSL user interface and automation functions. Moving between any of the rooms is a breeze!"
"Yes," he reflects, "we stayed with SSL because it offers a high degree if interchange between our state-of-art rooms. And the best-sounding SSL is this new 72-channel/48-buss SL-9000 J-Series. For us, sonic integrity is of paramount importance; we can now throw away all of our [other brand] outboard pre-amps and EQs! This is a very quiet console."
Olympic Studio Manager, Siobhan Paine, agrees: "Studio #1 is one of the largest studios in London, with space for a full orchestra. We handle a wide range of projects, from album recording and mixing, to film scores. Artists who choose to record here do so because of [the studio's] capabilities.
"For instance, Eric Clapton records all his [English sessions] in Studio #1; Charlie Watts recently finished his latest album; Eternal recently recorded the music for a new Disney animated feature." Other artists using Olympic recently have included Shirley Bassey, Steve Hillage, Michael Ball recording "Phantom of the Opera," Mike Scott (ex-The Water Boys) recording a new solo album with producer Nico Bolas, Chris Kimsey mixing tracks, and The Lightning Seeds - "it's been a very diverse mixture," Paine recalls. "We think the SL-9000 is just the console to do justice to a very special room." Most recently, Eric Clapton was in Studio #1 overdubbing and remixing a series of new album tracks recorded in Los Angeles, with producer Simon Climie and engineer Alan Douglas.
Studio #1's recording area and control room were designed by Sam Toyashima just over seven years ago, and received a full cosmetic refurbishment prior to installation of the new console. "The room needed a bit of smartening up and modernizing," Davidson says, "but the acoustics were perfect so we left that as it was." The control room measures a comfortable 7.6 by 6.7 meters (30 x 22 feet), with a separate machine room to the right, while the recording area is 15.8 by 11.8 meters (52 x 39 feet). Four isolation booths are also available. Studio instruments include a Steinway Concert Grand with MIDI interface. Acoustics within the recording area can be varied by lowering and raising sections of the ceiling via a series of motor-driven hoists, to create angled panels that reflect sound out into the room.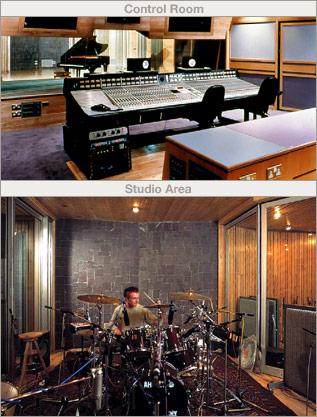 Studio #2's control room (pictured right) measures 7.6 by 7.2 meters (30 x 24 feet), and the recording area 11 by 9.7 meters (36 x 32 feet), with two iso booths. A Bosendorfer Grand with MIDI interface is also available. Studio #3, which handles remix and overdub sessions, features an 8-by-5.3 meter control room (26 x 17 feet) connecting to a small 5.5-by-3.8 meter (18 x 12 feet) live room.
Each control room and companion recording area is intended to operate as a self-contained Studio Suite with its own producer's office. Decorative trims and color schemes are used throughout the complex to differentiate each Suite. Studio #1, for example, features a predominance of cherry paneling and finish detail, while Studio #2 is laid out with ash trims, and Studio #3 is finished in an attractive beech.

Analog and Digital Production Hardware
In terms of production hardware, Olympic boast an impressive collection of analog and digital transports, any of which can be installed in any of the control rooms. Available decks include a pair of Mitsubishi X-850/880 PD-Format digital 32-tracks; two Sony PCM-3324 plus two PCM-3348 DASH-format multitracks; and Studer A-820 analog multitracks with Dolby A and SR noise reduction. Timecode synchronization and lock-to-picture is provided by a series of TimeLine Lynx II systems. Mastering decks in each control room include Ampex ATR-100 quarter- and half-inch machines; plus Sony PCM-2500 and Otari DTR-90 DAT machines. Monitoring in each room is provided by Genelec 1035a systems mounted in soffits. "We also have a series of corridors and a freight lift [elevator] that connects to our loading dock," Davidson says, "for equipment loading."
During the recent series of renovations and facility upgrades, Olympic Studios also made improvements to its creature comforts , including landscaping an attractive garden area, adding a large conservatory, as well as a full-size tennis court that doubles as a five-a-side soccer pitch. The conservatory features a large oak table that has an interesting pedigree. It is an identical copy of table that used to grace the dining room at Shipton Manor. It seems that former owner Richard Branson, who lived for a while in the magnificent building which connected to the original Manor Studios - in reality, a converted outbuilding with a new control room added in the late Seventies - wanted to retain the table after sale of The Virgin Studios Group to Thorn/EMI. As a compromise, Branson agreed to have an identical copy made of his favorite table, which now forms the focal point of a large, bright and airy conservatory in the rear of the complex.
"Studio rates are competitive with London rates," Paine says. "Studios #2 and #3 go for between £1,000 and £1,100 per day [approximately $1,600-1,760], while Studio #1 rents for £1,250 to £1,300 [$2,000]." All rates include an analog multitrack and an assistant engineer. The smaller Programming Room, which features Amek/TAC Magnum and Mackie 32/8 consoles, a Otari MTR-90 24-track, a Sony DTC-1000 DAT machine, a Digidesign four-track Pro Tools system and an impressive array of MIDI keyboards, expanders, sound modules and Mac-based sequencers, is available for pounds 300 per day without operator (about $480).
"We like to think of ourselves as being a full-service, centrally located facility," Ian Davidson concludes, "but in a quiet, unassuming part of London, close to Heathrow Airport and the city center. We offer three, technically advanced rooms that are well serviced by our 24-hour support and technical staff." In addition to a well-stocked kitchen and dining room, the studio also has access to a four-bedroom house close to the facility. Capable of providing accommodation for up to seven people, the house rents for £800 per week (around $1,280)

For more information contact
Siobhan Paine, Studio Manager, Olympic Studios, 117 Church Road, Barnes, London SW13 9HL, UK; +44 (0) 20 8286 8600 siobhan@olympicstudios.co.uk


©2022 Media&Marketing. All Rights Reserved. Last revised: 12.26.21