Written by Mel Lambert in July 2003
In 1987, the late Lillian Disney made an initial donation of $50 million to build a world-class performance venue as a gift to the people of Los Angeles and a tribute to Walt Disney's devotion to the arts. Since then, other gifts and accumulated interest bring the Disney family's total contribution to over $100 million. The resultant 293,000-square-foot Walt Disney Concert Hall (WDCH) occupies a 3.6-acre site at the intersection of First Street and Grand Avenue in downtown LA. The County of Los Angeles provided the land and additional funding to finance WDCH's six-level subterranean parking garage Scheduled for completion by October 2003, total project cost of the project was quoted to be $272 million.
Walt Disney Concert Hall encompasses two outdoor amphitheaters, as well as a space for pre-concert events. Centerpiece of the complex is a 2,265-seat Concert Hall where the Los Angeles Philharmonic Orchestra will present more than 150 concerts per year, beginning with the 2003/2004 season. Nagata Acoustics and Gehry Partners collaborated on the auditorium's visual and acoustic designs. The interior combines a curved wooden ceiling and staggered seating, and was designed to retain the acoustical characteristics and intimacy of traditional "shoebox"-style concert halls, while allowing more flexibility in architectural design. Audience members surround the orchestra platform, while a pipe organ occupies a central position between the seating sections in rear of the stage. Other design highlights include hardwood walls and ceiling made of Douglas fir, with a large 36-foot-high rear window and skylights to bring natural light into daytime concerts.
Performance Sound, Video and Communications (PSVC) Systems
Primary building contractor on the project was M. A. Mortenson, working with Theater Project Consultants. Engineering Harmonics, Inc., Toronto, was hired to design the hall's Performance Sound, Video and Communications (PSVC) Systems, to fulfill programming and operational requirements for the Concert Hall, the Pre-Concert Area (PCA), the Founders Room, lobbies and backstage, including the power distribution system, working with electrical engineers, Fred Brown & Associates, and SASCO Electrics as contractor. Technology budget for the performing arts complex is a reported $2.2 million.
ProSound, with offices in located in Miami, Orlando, Las Vegas and Los Angeles, was awarded the contract to supply, engineer and install the PSVC systems. Larry Spurgeon headed up the project for ProSound, while Scott Marcellus provided systems engineering. To address the auditorium's architectural challenges, two sound reinforcement systems were developed: a concealed announce system; and a removable sound system for contemporary programs. Another sound reinforcement system covers the Pre-Concert Area.
"Although it serves primarily as an acoustic venue for the LA Philharmonic Orchestra," says Engineering Harmonics' David Clark, who supervised the PSVC installation, "the Concert Hall needed to provide a removable sound reinforcement and separate stage monitoring system. And we also needed a number of other systems for all shows, including announcements-only, with no visible loudspeakers, plus stage manager equipment, program sound pickup and distribution, hearing assistance, production intercom and production video."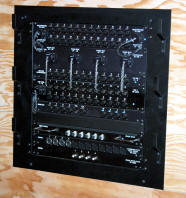 Figure 1: Engineering Harmonics' custom-developed signal breakout bulkheads comprise a standard 24-inch backcan that holds 12U of standard 19-inch rack equipment.
"For the concert hall," Clark points out, "an integrated system of bulkheads, panels and cables collect, concentrate and distribute the stage, wireless, recording and measurement-microphone signals and electronic instrument signals." Concentration and distribution are done at a series central patch racks, located stage left. Four channels of Sennheiser 3000-Series wireless microphones are provided, along with a remotely controlled Aphex Model 1788 mic pre-amplifier rack. "The Aphex mic pre-amps double as splitters and are used for the recording mics and/or for the 'money' channels on stage," Clark says. Signals are distributed to the consoles and other destinations via audio distribution amplifiers.
Cable Factory supplied the multi-system bulkheads and panels, and Leitch the mic/line-level audio distribution.
Interestingly, Engineering Harmonics has developed a special design for its signal breakout bulkheads (Figure 1). A standard 24-inch backcan holds 19-inch rack panels with side adaptors and can accommodate up to 12U of interconnects or rack equipment. "The system is easy to wire," Clark stresses, "and easier to service and add to than other designs."
Removable Sound System Design for Main Auditorium
"Our biggest challenge in design," Clark considers, "was that the architecture is very non-standard! Understanding the drawings and the architect's concept was a small hill to climb by itself. Sections and plans do not show the geometric complexity of the building." Fortunately, Engineering Harmonics had access to Gehry Partners' CATIA 3D computer-modeling program, which was used to document designs and to rationalize the bidding, fabrication and construction process.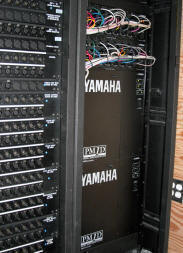 Figure 2: The Digital Audio Engine and companion I/O modules of the facility's pair of Yamaha PM1D Large-format Digital Assignable Consoles reside in patch racks located stage left.
"Kirstin Woehl, who is in charge of the CATIA model, provided us with a 3D tour of the environment," Clark continues, "which made it easier to visualize the space and determine the location of the permanent and removable sound systems. We also had access to a scale model of the main auditorium, in which half of the audience seats can be removed and replaced by a single theater seat. In that way we could sit in the room and view the environment first hand. That capability was a great help!" Since presentations in the Concert Hall will range from the purely acoustical to the full-fledged electronic/philharmonic in an acoustic environment designed for symphony performance, "we had to pay close attention to articulation and pattern control over the entire musical spectrum," Clark rationalizes. "We came up with a design for a line-array system supplemented by distributed fill, delay and surround speakers, stage monitors and a steered subwoofer array." For mixing of large-scale amplified concert performances, ProSound supplied a pair of 96-channel Yamaha PM1D Large-format Digital Assignable Consoles for front-of-house and stage monitoring; each Digital Audio Engine and companion I/O modules (with redundant power supplies) resides in patch racks located stage-left (Figure 2), and connects to its respective remote control surface via a single umbilical (a 68-pin cable plus two Ethernet interconnects). The FOH PM1D's control surface is located in a custom-designed Sound Control Room (Figure 3) while the monitor console's control surface and related equipment are housed in portable flight cases, to be set up stage left as required.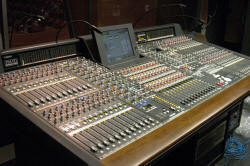 Figure 3: The front-of-house Yamaha PM1D front-of-house Digital Assignable Consoles is located in a custom-designed Sound Control Room.
Designed for live and installed-sound applications, the PM1D Digital Assignable Console performs all mixing and audio processing functions entirely within the digital domain. The Digital Audio Engine features internal 32-bit processing and is configured to handle 96 channels with 48 mix busses, 24 matrices and 12 DCAs. Dual inputs on each channel provide 192 sources. (Addition of a second digital engine expands the PM1D to accommodate 384 inputs/192 channels with 96 mix busses, 48 matrices and 24 DCAs.) Total recall of all system settings is featured, plus off-line programmability, central control and graphic parameter readout. Up to 1,000 scene memories can be stored in non-volatile memory. In the event of a control surface disconnect or power failure, the system will continue to pass audio.
"The console's local interface electronics and a computer - for remote control of wireless mics, mic preamps, amp control and DSP network control - reside in a fixed swing rack located in the Sound Control Room," Clark explains. "The computer's keyboard, monitor and mouse are located with the main console, remoted via a KVM unit." The Sound Control Room audio monitors receive an adjustable blend of live sound from two Crown boundary microphones, mounted outside the control room, plus direct feeds from the console, delayed to synchronize to the live sound.
Regarding the choice of Yamaha PM1D consoles for the new performance arena, Clarke is candid in his analysis. "Digital is an evolving technology, and is now proven for live applications. These are now stable, quality products, fully acceptable with high-end users. Total system recall is an obvious advantage, and would cost around $250k in an analog design. The PM1D has proven itself in the market, will be familiar to many visiting engineers, is exceedingly versatile and is sufficiently economical that it could fit into the project budget."
The Sound Control Room also houses various audio recorders and playback decks mounted in portable racks, including a pair of Tascam DA-88 8-channel MDMs, two Tascam DA-40 DAT machines, an HHB CD-ROM deck and a Marantz PMD-320D CD player. Audio monitors comprise a pair of JBL LS-28P models. If necessary, the FOH Yamaha PM1D control surface, recorders and associated equipment can also be relocated to the "Cockpit," an audience area directly in front of the mixing booth, with absorbent panels being available to eliminate sound reflections off the booth's glass window.
Signal Processing and Audio Distribution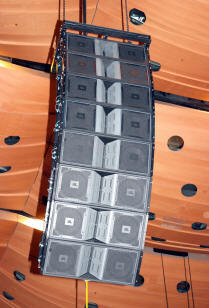 Figure 4: The primary Stereo Left and Right Loudspeaker Arrays each house eight JBL VerTec Series VT4888 line-array cabinets with JBL rigging systems and ATM FlyWare swivel suspension.
A network of 15 Harman BSS Soundweb 9088ii and 9000ii DSP processors and network devices handle signal processing and distribution to the flown loudspeaker systems and related units, plus Crown PIP-USP2 IQ modules. "The main [FOH] Yamaha console feeds its signals into the DSP network," Clark explains, "where it is distributed and processed - level, delay, EQ - for each loudspeaker system and other PSVC systems. The network is managed via software running on the computer at the main console work surface." Processing for stage monitors is handled in DSP cards located in the associated amplifiers, and allows the latter to be driven, as required, by either the monitor console, the FOH console or a visiting console.
Power amplifiers comprise 50 Crown MA-5002VZ, MA-3600VZ and MA-2402VZ models, which were selected "for their sonic qualities and power delivery, meeting the requirements of the [JBL] line-array loudspeakers," Clark says. Concealed announcement loudspeakers include eight JBL AE Application Engineered Series AM6200 models.
The primary Stereo Left and Right Loudspeaker Arrays each house eight JBL VerTec Series VT4888 line-array cabinets with JBL rigging systems and ATM FlyWare swivel suspension (Figure 4). For enhanced side-area coverage, two additional Terrace Left and Right line arrays were specified, each of which comprise six JBL VerTec VT4887 line-array cabinets with similar rigging and swivel systems (Figure 5). "The Terrace arrays cover small 'amphitheatres' that flank the stage," Clark says, "without imparting excessive energy to either the reflective pillows above the top row of seats or to the wings of the stage." To the rear, for coverage of the Chorus Seating, two smaller arrays comprise a pair of JBL AM6212 cabinets with swivel suspension, plus a single JBL AM6212 cabinet for center-rear.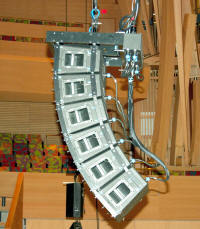 Figure 5: For enhanced side-area coverage Terrace Left and Right line arrays comprise six JBL VerTec VT4887 line-array cabinets with similar rigging and swivel systems.
"For Upper Balcony 'nosebleed' fills," Clark continues, "we specified three JBL AM6200 cabinets plus 16 JBL MS26s for surrounds." Deck Fill loudspeakers comprise a pair of arrays of two JBL AM6315s, with eight JBL ACF4325s as Front fills mounted under the lip of the stage. "The Deck Fills can be used either to lower the image of the main arrays in the orchestra," Clark explains, "or to serve as a stand-alone system for events using only the lower orchestra level, or may be turned onstage to serve as side fill monitors. The Front Fills cover the first three rows of seats, bringing the image down toward the stage and masking the impact of the subwoofers in the front seats."
Subwoofers in the Concert Hall comprise seven JBL VerTec VT4881 cabinets, mounted under the lip of the stage, alternated with the front fills. A total of 22 JBL TTM129s are available as on-stage monitors. "The subwoofers are circuited as pairs mirrored across the stage," Clark points out. "Delays are set for each circuit, with the longest for the outermost pair, decreasing toward the center, to create a virtual arc that distributes the sub-bass energy evenly around the front and sides of the stage."
The hall's concealed announcement loudspeakers are mounted in the ceiling behind custom wood grilles. "ProSound de-constructed the loudspeakers and then protectively packaged and framed the components - mid/high horn package and crossover - into drywall enclosures," Clark says.
Addressing the choice of VerTec line array components for the removable PA system, David Clark readily acknowledges that "the use of line arrays in a wrap-around configuration is unusual - arraying line arrays is not supposed to work, but we have done it here at WDCH, and it works! A singe conventional central array would place too much LF energy directly beneath the array" - right where the lead vocalist or conductor might be located - "and limits playback to mono."
Acknowledging that the room is designed specifically for the LA Philharmonic's orchestral performances, and is predicted to offer an RT60 of around 2.2 seconds in the midband, "The upper half of the hall's volume is filled with reflective surfaces that augment the sound of the orchestra but decrease the signal-to-noise ratio of reinforced concerts," Clark rationalizes. "We needed a loudspeaker system that would work well over very long distances in the vertical plane without sending energy to the ceiling." Hence the choice of a line-array system.
"In essence," Clark offers, "the Stereo Left and Right arrays cover the upper and lower orchestra seats at an approximately constant level and frequency response without imparting excessive energy either to the reflective face of the upper balcony, nor to the front rows of the main audience seating areas. And the Terrace Left and Right are covering smaller amphitheaters. We knew what we needed [to provide sound coverage], and [JBL] was able to meet our requirements in new hardware."
The upper four of the eight VT4888 three-way cabinets used in each of the Stereo Left and Right line arrays feature a 60-degree rather than 90-degree horizontal coverage pattern, while the 12 (six per array) side-pointing VT4887s feature 120- rather than 100-degree coverage. "By using these custom-developed VT4887-120 and VT4888-60 cabinets," Clark emphasizes, "we can precisely control the horizontal response across the audience areas, rather that having the speaker fire at reflective surfaces."
The Pre-Concert Area accommodates more intimate musical presentations to 400-600 patrons, and is provided with a Soundcraft 32-channel K-1 General Purpose Console that features four subgroups and six aux busses, linked to a pair of BSS Soundweb 9088ii processors and three Crown-powered JBL AM6212 loudspeakers in the playback areas, plus two JBL LSR-28P audio monitors in the sound booth. "The sound reinforcement system meets the program requirements to support voice and live music in this space," Clark says. "Ordinarily, the console resides in a dedicated sound booth, but may be re-located to a position on the seating area, connected to the booth equipment via a bulkhead concealed in the floor."
Concert Hall Stage Manager Equipment
The Stage Manager operates from a dedicated room stage right, with a window to the stage and controls for the stage platform lifts. "The SM monitors the show via video monitors, cable TV monitor and dedicated loudspeakers," Clark explains. "He can operate a PTZ camera to view items of interest, and controls the progress of the event using timers, intercom master station, paging master station and voice announcement microphone." A dedicated program sound pickup and distribution system provides mixes of the sound in the hall to other systems, receiving input from microphones suspended over the stage and from the main mixing console. "Functionality of the system resides in the DSP processors of the sound reinforcement and paging and program monitor systems."
A separate Concert Hall Hearing Assistance system comprises a Sennheiser SI-1015/NT wireless transmitter and eight SZI-1029/120 Emitters, linked to 92 portable HDI-302 receivers. "The system meets ADA requirements with best-quality equipment appropriate for the aspirations of the venue. The challenge was to cover the seats that surround the stage on all sides with minimum aesthetic impact."
Multichannel Production Video and TV System
The video system facilities at WDCH function on two operational levels: a dedicated Production Video System, which is configured for point-to-point baseband video distribution from a central patch field to all line production areas plus lighting control and stage control; plus a closed-circuit, eight-channel cable TV modulator distribution system within WDCH and adjacent Music Center (comprising Dorothy Chandler Pavilion, Ahmason Theater and Mark Taper Forum).
The Production Video System comprises a total of four Hitachi HV-D25 cameras with Fujinon electric zoom lens linked to a Leitch distribution system and Bittree patch fields. "The production system affords the stage manager and others various views of the hall and the event for show and operations management," Clark explains. "The video distribution offers good quality and image security. The primary camera, equipped with pan-tilt-zoom, is mounted below the face of the upper orchestra balcony, centered in the Concert Hall, and captures a full front picture of the stage." Other cameras provide supplementary views of, for example, the conductor, for viewing by a remote chorus, the organist and others. Hitachi Eagle PT-220 pan/tilt head and PTC controllers were specified, and can be operated remotely at the stage manager's booth to view special production areas of interest. "This facility also assists recording crews," Clark says, "remotely located in the recording room off stage left, or in mobile recoding trucks located in the loading dock."
The Television Distribution system comprises eight Blonder-Tongue BT-FAVM-860 video modulators and four BT-SE4 stereo audio encoders linked to BT-860-30 DAs, splitters and line amplifiers, plus Videonics PowerScript Studio PS-4000 character and graphics inserter. "Video images from the Production Video Production System, plus images from the other venues of the Music Centre are distributed throughout WDCH via the dedicated cable TV network," Clark explains. "Each location supplied with a feed can specify which of the eight they view, and also select picture-in-picture, for example. And the lobby manager can add graphics and text to the lobby monitors for late comers."
The FOH Manager can also add text and graphics to provide information to concert attendees, as well as promotional purposes. "The hall can also modulate other sources, such a DVD players on a repeating loop, for example, that might be showing a conducted tour of the new environment."
The Production Video System can be also interfaced with visiting mobile broadcast production trucks, and the venue's production area.
Technical Power and Ground
Seven SurgeX SX-1120 surge suppressors and seven APC RM-220 or RM-3000 Uninterruptible Powers Supplies are provided. According to Clark, "The [WDCH] technical power and ground system is divided into two subsystems, sharing a common equipment center and ground to earth. To reduce neutral currents, the installed and portable PSVC equipment is served by a network of split phase - 120/240 VAC - feeders, distribution panels and branch circuits, powered by a dedicated Faraday-shielded, split-phase transformer. To mitigate the fluctuating voltage supplied by the Los Angeles power grid, all branch circuits that supply computer or DSP equipment are routed to the equipment via surge suppressors and UPS." To prevent inadvertent contamination of the technical ground, the conventional building power-distribution network powers the TV distribution system.
"Visiting productions and mobile recording and television trucks are served by two 200A 120/208 three-phase company switches," Clark points out, "located stage left and in the loading dock, equipped with cam-lock connectors and terminal lugs, with separate ground connections for technical power and common building ground."
During its past four years of construction, the new Walt Disney Concert Hall has become not only a local landmark, but also the subject of great speculation and often-vitriolic comments from local aficionados of modern architectural designs. Bearing the undeniable creative touch of architect Frank Gehry, the environment is destined to become one of the West Coast's most recognized architectural landmarks, and one of the world's most advanced concert halls.
Facility photographs (c)2003 content-creators.com. All rights reserved



©2022 Media&Marketing. All Rights Reserved. Last revised: December 26, 2021